NATALY
Owner
Nataly took over Dogfather in 2007 and has never looked back. As a first time business owner, she quickly learned the ins and outs of this exciting and growing industry. In 2008, she decided to expand the business by introducing The Paw Spa, our wonderful and well known grooming facility.
Because Nataly values unique and one-of-a-kind products, the shop is always full of new and innovative merchandise. She does her best to support local businesses and North American made items, because these are usually the safest and best quality products for your pup.
Nataly currently has one dog named Moushi, a pocket sized Yorkshire terrier, and is currently on the hunt for a new rescue pup. Nataly is committed to ensuring that you and your pooch are getting the best shopping and grooming experience in the city. She is eternally grateful to all of her devoted customers (human and dog) who continue coming back again and again!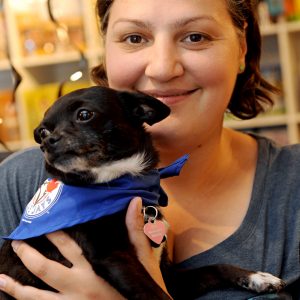 CRIS
Store Manager
Growing up Cris' parents did not allow any furry animals in the family home. Once Cris even brought a kitten home and set it up in the garage. The kitten stayed there for a few days until the little black cat was found by her parents and promptly returned to where it came from. Finally, Cris' parents did allow her and her sister to have birds. She loved the budgies and morning doves as family pets, but Cris really wanted a dog of her own.
Today, Cris is the proud owner of Ivy, a little black and white female Chihuahua who is the apple of her eye. Living alongside Ivy are two cherished male cats named, Arnez, a Russian Blue Cross and Reese, an Orange Tabby.
Being married to a groomer you could say a love for animals runs in the family. On Sunday mornings you will most likely find Cris and her spouse at the local dog park playing ball with their beloved dogs. One of Cris' passions is learning about new holistic remedies and environmentally green products that are safe for humans and animals alike. Upon Cris' suggestion, the Dogfather and Co. is currently taking many initiatives to be as environmentally green as possible. Cris is a firm believer that with the best diet and supplements, all pets can ease into their senior years and still enjoy themselves to their fullest.
Cris is always available to answer any questions in regards to grooming or other topics you may have about your puppy in any stage of their life.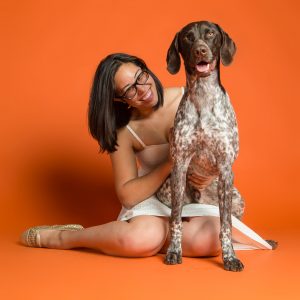 AMANDA
Team Leader, Social Media & Product Specialist
Amanda has loved dogs since birth. She's been working in the pet industry since 2012, and has also volunteered for numerous dog and cat rescue organizations over the years. She is very passionate and knowledgeable about canine nutrition and balanced training. If you have any questions about anything in these fields, she is happy to answer any of your questions any time.
Amanda's furbabies include a mischievous one year old German Short Haired Pointer named Vader, and a deaf rescue cat named Ziggy. Ziggy gets requests from our staff to visit the store often due to his calm nature with people and dogs. When Ziggy is not working the store floor with Amanda, he walks on a leash and visits children and seniors as he is a certified therapy cat!
When Amanda isn't at work, she loves to go on hikes with Vader and Ziggy (Yes, Ziggy likes hikes). She is an experienced dog walker and pet boarder, and Dogfather most definitely recommends Amanda if you are looking for these types of services. Dogfather is very happy to have Amanda as a part of our team!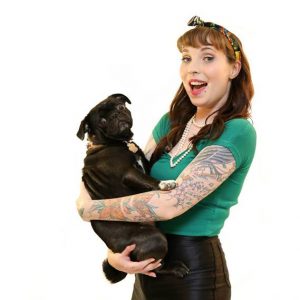 SARAH
Team Leader
Sarah was lucky to have a family that took in many rescues while she grew up in Kingston, Ontario. As a child, she had many furry friends, but her two favourites were Isis and Spooky.
When she was 6 years old, she was lucky enough to pick out Isis her first cat.  Isis (which is actually originally the name of an Egyptian goddess but also the name of Catwoman's cat in the Batman Animated Series) is a beautiful Seal Point Siamese. This little kitty quickly became best friends with another rescue named Spooky the Doberman.
Spooky made it his mission to protect Isis, Sarah and her younger sister. He was so devoted to them that he didn't sleep. Spooky kept watch over them every night, and only slept during the day. He also made sure that his friend Isis didn't wonder too far from the house, wrestling her back in when he felt she went too far. Spooky was a loyal friend, but his life ended too short due to Bloat (an all too common occurrence in large breed dogs). Isis lived on to have a long and fruitful life, and recently passed away at the ripe old age of 20.
Other than Sarah's many experiences with rescue animals growing up, she has also worked at a couple shelters. She was responsible for organizing fundraisers, walking and bathing dogs, and caring for cats.
Currently, Sarah is the current proud mama of 2 cats, a Snowshoe named Panda and a tabby named Opie. The newest edition to her family is a black pug puppy (whom many of you have already met) named Professor Pickles II – Follow him on Dogfather's Instagram!
Contact: [email protected]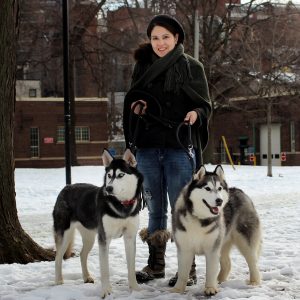 MARGOT
Sales Associate
As a long time dog owner, Margot understands the importance and challenges that come with owning a long term BFF. Growing up she has had the pleasure of owning two beautiful dogs.
One was a pitbull Labrador mix named Chicha, the other one was a German shepherd husky mix named Roxanne. Unfortunately, Chicha passed away in 2012 at the age of fourteen, and Roxanne passed away in 2015 at the age of thirteen. They were her beloved companions, and even after their passing she still holds them close to her heart.
In May 2016, Dogfather hosted an adoption day featuring Coveted Canines and Margo fell in love. She has since adopted a husky who stole her heart, and is now currently the proud mother of Amelia (see photo).
During her time at Dogfather, Margot has learned a lot about the different breeds of dogs and their needs. She's fantastic at helping you find the right toy, food, treat, or apparel that suits your best friend's needs. She currently works part time on weekends, as she is currently in school upgrading her skills so she can eventually become an animal physiotherapist.