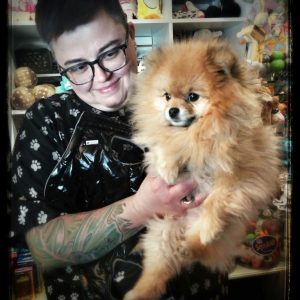 MELISSA COSTA-HAIGLER
Senior Groomer
Melissa has a special connection to dogs, a characteristic that makes her a fantastic groomer. Having completed her training in the U.S.A., she moved to Toronto in 2005 and has been grooming for 19 years. Melissa has been a member of the Dogfather & Co team since 2011, and she is certified in doggy CPR, so you can rest assured your pooch is in good hands!
Melissa is dedicated to your dog on their spa day, with one-on-one attention given to your pooch to ensure they get the love, patience and attention they require.  She also specializes in dogs that are considered "special needs".  Do not hesitate to drop in and ask her any questions you may have about grooming or about your dog, she is always happy to lend a helping hand.
Melissa is the proud owner of a Boston Terrier named Petrie and a Chihuahua named Ivy. She also has two cats she loves dearly, a male Maine Coon named Suki and a female Calico named Princess.
Melissa is available for appointments at our 1007 Yonge St. location on Monday, Friday, and Saturday.
~ ♥ ~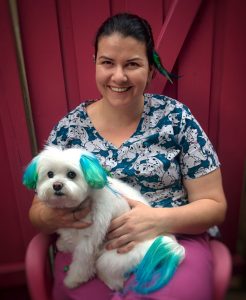 DARLENE MCGUGAN
Dog Groomer
Since the young age of 15, Darlene found a deep love for dogs when her family got their first canine family member, Pheonix.  Roughly 8 years ago, Darlene decided that she would enter the pet care industry, starting in a doggie day care. Along the way, she continued to learn about different dog breeds and behaviours. Eventually, she decided to get a German Shepherd of her own, Kronos.
Two years ago she changed paths in the pet care industry to become a groomer. She has spent the past few years learning and developing her skills under many of the best groomers in the city, including the same teacher who trained our past beloved groomer Karolina.
She's now excited about being part of the Dogfather and Co. grooming team, and is thrilled to put her varied experiences to good use.  Thanks to her skills learnt in other pet service industries, Darlene's ability to handle dogs with a soothing and calming energy is what makes your dog's grooming experience a positive one.
Darlene is available for appointments on the following days and locations:
1007 Yonge St.: Wednesday, Thursday and Sunday
179 Avenue Rd.: Friday and Saturday
~ ♥ ~