Measure your dog from the base of the neck to the base of the tail (body length in inches)
Measure around the largest part of your dog's chest (located just behind the front legs)
For thicker necked breeds like bulldogs, pugs, chow-chows, etc. measure around the base of the neck.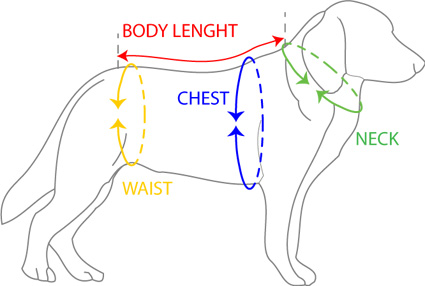 Coats, Sweaters, T-shirts, Harnesses & Backpacks
Doggy apparel generally measures in inches and increases in increments of two (starting at size 6″, 8″, 10″ all the way to size 32″). Every dog is unique and may not fit into standard sizes. Dogfather is happy to exchange any apparel that may not fit for a better size, as long as it has not been worn outside and is in good condition. Please see our Return & Exchange Policy for more information.
For Collars
Measure with a measuring tape just above the base of the neck.
If you are walking your dog on a collar, it's important to have the collar adjusted so that only 2 fingers can fit between the collar and your dog's neck. Any more slackness can cause the collar to slip off. If you are walking on a harness and using the collar for ID or fashion purposes only, it's completely up to you how you want the collar to sit – keep in mind that too loose a fit can cause your dog to get their jaw under the band (be especially careful with puppies).
As always, we will be available in store for guidance when fitting a new collar.
Boots, Shoes & Socks
It's all about finding the right fit! Not all brands of booties are suitable for every dog, and depending on the shape of your dog's paws and the way they walk, some boots may not work. For the best success in finding the proper pair of shoes, your dog should come to the store for a fitting.
If you are not able to bring your dog in store, we cannot guarantee the perfect fit. However, as long as the shoes have not been worn outside and are in good condition, we are happy to provide an exchange or store credit.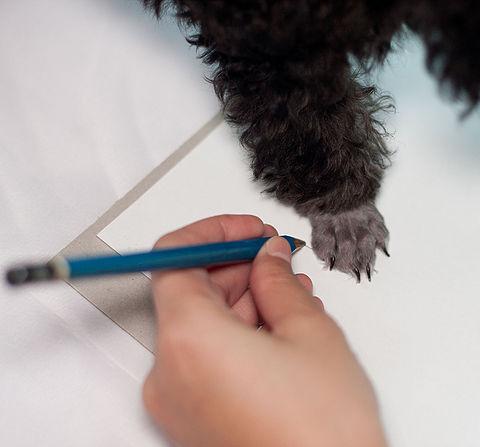 Measure Your Dog's Paw
Please follow these instructions and bring the measurements with you to the shop:
While the dog is standing with their full weight on their foot, measure (in inches) across the widest part of the paw as well as from the front to the back.
Along with these two measurements, trace your dog's front and back paw on a piece of blank paper while they are bearing full weight on that foot.