Petote High Fashion Carrier Purses
Petote makes designer carriers that are manufactured in the US. They are hand-sewn at their factory location in Chicago. You will find Petotes fashionable, functional and discreet, giving you the confidence you need to take your pet anywhere.
Marlee bags are lightweight carriers meant to look like a designer handbag, making you want to tote your dog all around the city and more. This bag has flaps on both ends that roll up and down, allowing you to carry your dog more discreetly any where. Two front pockets with turnlock detail as well as secure zip pocket on back side, and vented at both ends.
Marlee handbags are only available in size 18″L x 7″W x 10″H which is airline approved.
These handbags are soft and flexible quilted fabric with their signature silver hardware. They have roll up side widow and 3 mesh panels for ventilation, 2 front pockets, and a removable fur bedding base. All handbags have a secure clip inside.
Airline approved and made in the USA.
Available in Small 17″L x 8″W x 9″H (dogs < 10 lbs.) and Large 20.5″L x 8.5″W x 11.5″H (dogs < 15 lbs or 2 small dogs)
These cross body bags have detachable shoulder straps and an envelope style cover flap with clasp closure. These faux leather bags feature gold hardware, making you want to tote your dog anywhere. Storage pockets allow you to actually use the bag as a purse for your personal items. Mesh windows with roll up flaps and a top loading zipper entry allow for privacy and ventilation.
The interior bedding is soft and removable for washing.
Best for dogs up to 8lb.
The Siera is available in one size only 9″H x 7″W x 16″L.
Tote your pet in style and comfort in these soft sided duffel carriers.
They have comfortable shoulder straps, and an inside and outside pocket, with an open top for easy access to your pet and mesh cover for ventilation. The inside fur bedding is removable and washable.
Dimensions:
Mini: 16″ L x 10″ H x 9″W. (For Dogs Up To 8 lbs)
Large: 18″ L x 12″ H x 9″ W (Dogs up to 15lb).
The Gigi Sling makes it easy for you to bring your small pet anywhere. Which chic quilted faux leather, and a stylish comfortable design, you can go hands free around town. It has a secure snap pocket on both ends, adjustable shoulder strap, removable faux fur bedding and secure leash clip.
Measures 18″ L x 10″ H. Made in the USA.
The Rio bag is an amazing, faux leather 3 in 1 pet carrier on wheels.
It is a Roller bag, backpack and also a car seat! Includes retractable two stop handle and detachable wheels, and backpack straps. Maximum ventilation keeps your pet cool during travel, and a comfortable soft bedding keeps them snug. Inside is a safety leash for added protection.
Airline approved for most airlines when wheels are detached.
Dimensions: 11.5"L X 13.5"W X 18.5"H.
Weight capacity is 12-15lb.
Made in the USA.
Dogline carriers are a great quality, economic and stylish choice to tote your pet. All of their carriers are airline approved by most air carriers.
Their carrier bags are available in Beige, Black or Pink, and the Backpacks (Front & Back carriers) are available in Beige, Black, Pink and Teal.
There are two sizes: Small 17″L x 8″W x 12″H Or Medium 22″L x 10″W x 14″H.
One For Pets Deluxe Cozy Pet Carrier
Use it as your pet's bed at home, and/or as a stylish carrier when you're on the go – your pet will be familiar with the feel and the smell of the Cozy Carrier as a bed so he/she will feel safe and comfortable traveling in it too.
Open the zippered mesh-top cover easily from different angles, or remove it completely to create a cozy bed.
Includes a top handle; a padded shoulder strap, and a removable, reversible and hand washable interior pad.
Cool nylon on one side; warm, cozy plush on the other.
Ample interior space for your pet's comfort.
Available in Red, Brown, Powder Blue and Tan.
Small: 16.5″ x 12.5″ x 11.5″ – 
The Small 
Cozy
Carrier
 is suitable for a pet weighing up to 15 lbs.
Large: 19.5″ x 16″ x 14″ – The Large 

Cozy

 

Carrier

 is suitable for a pet weighing up to 20 lbs.

Airline-Approved
The Small Cozy Carrier fits under the airline seat in front of you, and meets the in-cabin guidelines of most airlines (see Westjet, Air Canada & Jazz and United Airlines).
Just a word of advice
Please don't leave your pet (especially a puppy or a kitten) unattended inside the Cozy Carrier with the zipper closed. If you do, he/she could become anxious and chew or pull on the zipper – that's not good for your pet, OR the Cozy Carrier.
Care Instructions
Remove the insert of the interior bottom pad before hand washing the cover of the bottom pad and the wall pad.
Please don't machine wash your Cozy Carrier. Hand wash interior pads only.
This improved style of the EVA Backpack Pet Carrier is light-weight yet sturdy which is the perfect solution when you want to take your pet out for activities around town, or even for a hike in the woods.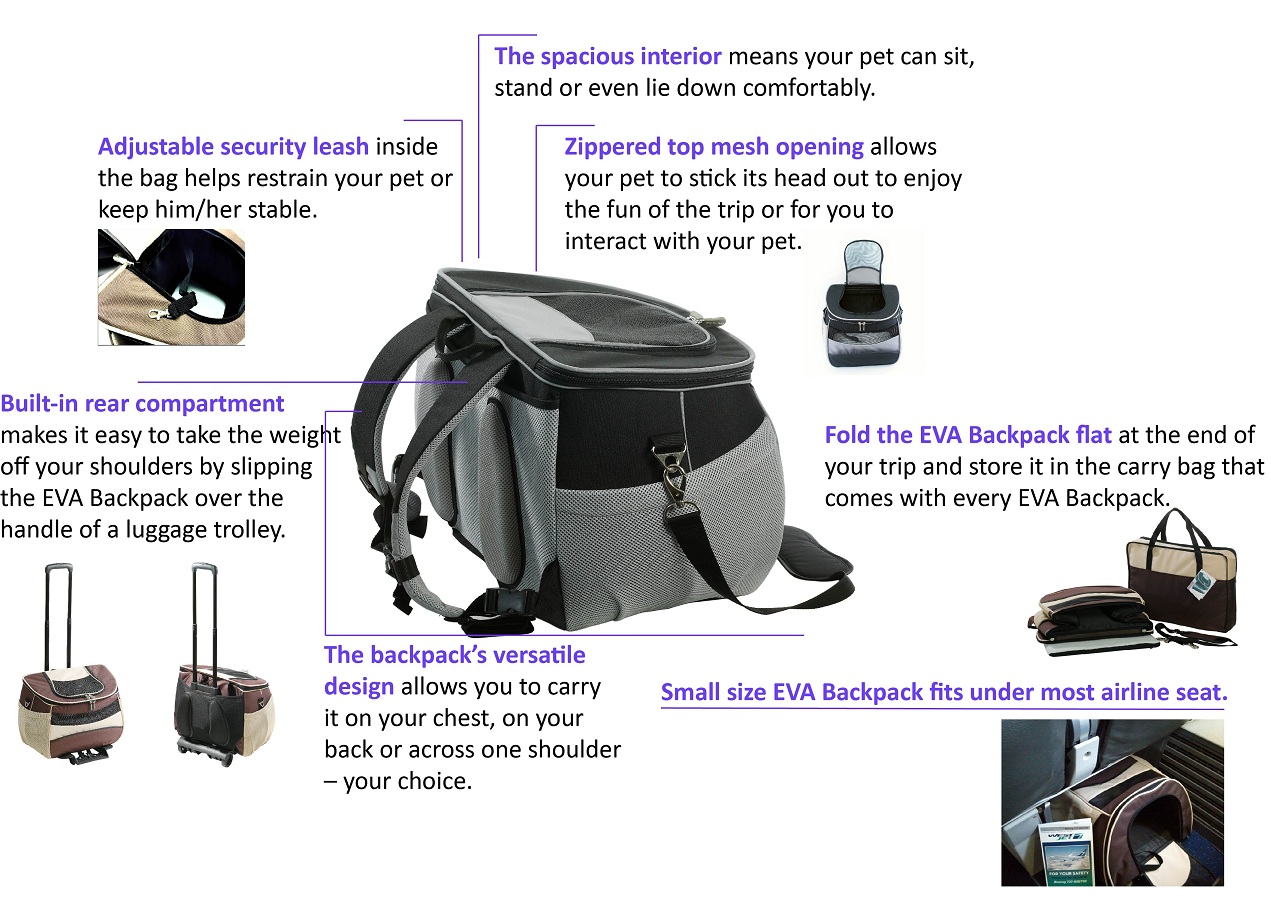 Sleepypod Atom Pet Carriers
Sleepypod Atoms are a customer favourite. They are airline approved and fashionable as well as functional.
Includes a shoulder strap, and folds down flat for easy storage.
They are recommended for pets up to 12lb – please reference the size guide shown in the gallery.
Sleepypod Air Pet Carriers
The larger of Sleepypod's carriers, the Air, contracts at the sides to accommodate various airline size requirements. Includes a shoulder strap and trolley pocket for sliding through luggage handles, making transportation easy. It has buckles on the front and back of the carrier allow you too secure the carrier with a seatbelt, turning the carrier into a crash-tested car seat. Also folds flat for easy storage.
The Air is recommended for pets up tp 18lb.
Please reference the size chart provided in the gallery.