Sleepypod Clickit Sport Harness – available at Dogfather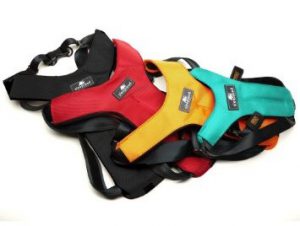 The Clickit Sport harness by Sleepypod can be used as both a seatbelt and walking harness. It is specifically designed to keep your dog safe in their car seat. This is especially useful for drivers, as you can rest assured that your pooch isn't climbing over other passengers, hanging out the window, or being forcefully thrown around in the event of an accident.
The Clickit Sport is one of the only certified crash tested dog seat belts on the market!
Unique Features:
3 points of automobile seatbelt contact
Adjusts to securely fit your dog
Provides excellent torso support
Wide supportive vest distributes and disperses damaging forces
Automotive grade seatbelt webbing
Ballistic nylon exterior construction
Neoprene interior construction
Easy to use
Walking harness with reflective components (on front & back)
Lightweight
Allows dogs to lie down comfortably
Certified up to 75lbs by the Center for Pet Safety
(*source: Clickit Sport – Sleepypod®)
The following video is a crash test of a 75lb dog:
This harness is available at Dogfather, so stop by or get in touch. We'd love to answer any questions you may have!