Canadian Chihuahua Rescue and Transport
It takes a special kind of person to foster pets. It requires all the sacrifices one would experience as though adopting their own pet, and eventually, they may have to give that pet away. Fostering dogs can sometimes take years before an adoption occurs, and by that time, one will have really bonded with the dog. There is no doubt that seeing them off to a forever home is wonderful, especially when the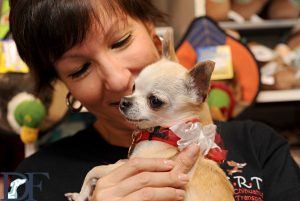 dog has found the right match, but letting go can be tough. Dogs available for foster care may come from unknown backgrounds and may have behavioural problems to work through. Understanding this, you start to realize that it is quite the journey that foster parents go through with, and for their pooches.
We were so pleased to have some of these wonderful folks in our shop this past weekend for our Chihuahua Adoption Day. We had partnered with the Canadian Chihuahua Rescue and Transport (CCRT) to promote the great work that they do and hopefully find new homes for some wonderful little pups.
This past Saturday, July 24th, Dogfather and Co. was temporarily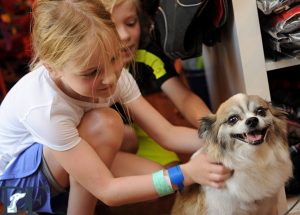 overrun with delightful, friendly Chihuahuas in many different shapes, sizes, and personalities. It is striking to see how much variety there is in one breed and just how unique each Chihuahua can be.
"You can't over-generalize a breed, just like you can't over-generalize humanity," said Joy, a volunteer and foster mom with CCRT. She has been with the organization for over nine years and has seen many different Chihuahuas find their matching homes.
With such a popular breed, there are always people adopting Chihuahuas, but unfortunately this also means that with so many adoptions, some of them inevitably don't work out. This is where CCRT steps-in to help. They work exclusively within the borders of Canada. The dogs they foster come from Canada through places such as puppy mill raids, the Humane Society, Toronto Animal Services and owner surrenders. They also only adopt-out within the country as well. One thing is certain, when a Chihuahua reaches the CCRT their life is on the road to getting better.
The foster and adoption process is not a short one. There is an assessment process so that the organization can correctly identify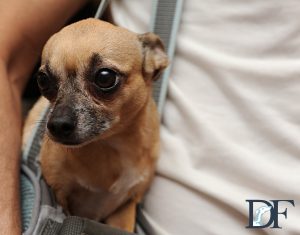 each dog's specific needs. "Every dog needs their own thing," said Joy. "They're very individual." It can sometimes be months before a dog is even considered for adoption based on their profile. "We don't put their profile up right away. We want to see how they're going to be and act."
The CCRT has been around since 1999. Over that time they've fulfilled their mission to find new loving homes for Chihuahuas, and to educate Chihuahua owners and the public at large about the breed. For more information on these wonderful dogs, the CCRT, or to look into adoption, visit www.ccrt.net.