Dogfather Helping Dogs in Cuba
This week two of our staff members returned from a trip to Cuba. It was seven days of beach relaxation in Varadero and taking in the sites in Havana. However the trip had an ulterior motive as well. Zeena and Kristina were also picking up a puppy to bring back to it's forever home inToronto.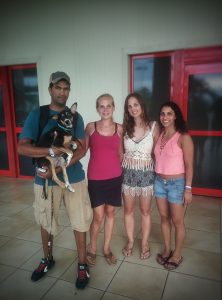 Stray dogs in Cuba are a major problem. They can spread disease, they are often underfed and matted, and they can be very aggressive towards strangers. This is a problem for the people and dogs alike. In Havana some government workers have even made some of the street dogs official state dogs, giving them a temporary home, regular feedings, and most important of all, some structure. Not all dogs are so lucky though.
APAC Varadero is working to do all they can to help pups have a good life with all of their needs met. APAC is a Canadian organization that works with vets in Cuba to help make sure strays get the medication they need. Not actually an adoption agency, they do work to help out wheneverpossible. Luckily in this case Dogfather and Co. Was able to lend a helping hand as well. Zeena and Kristina were able to work as transporters to bring a pup home to Toronto.
This past Friday they flew back to the city with a pup in tow. They were tasked with uniting Roccowith his new family. The trip went well and was Rocco's new family were very excited to welcome him to Canada.